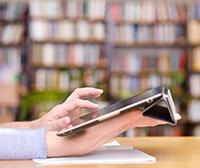 See below for I&R/A news and updates.
NASUADiQ Course on I&R/A Work with People with I/DD
A new training course is available on the NASUADiQ online learning center. This course, Strengthening Disability and Cultural Competence in Information and Referral/Assistance (I&R/A) Work with People with I/DD and their Families, was developed by The Arc in partnership with NASUAD. It describes ways in which Information & Referral/Assistance (I&R/A) staff and providers can improve services and resources provided to people with intellectual and developmental disability (I/DD) and their families. The course reviews strategies that staff and providers may use to integrate cultural and disability competence into their work with people with I/DD and their families.
Click here to access this free, online training course. If you are new to NASUADiQ, you will simply need to create an account for yourself to be able to access this course and our full catalog of courses designed to strengthen participants' knowledge of systems and services for older adults, people with disabilities, and caregivers.
AIRS Certification Program: New Names for Changing Times
In January 2019, the Alliance of Information and Referral Systems (AIRS) announced new names for the credentials that comprise its certification program. Certification is a measurement of documented knowledge in the field of I&R reflecting specific competencies and related performance criteria, which describe the knowledge, skills, attitudes and work-related behaviors needed by I&R practitioners to successfully execute their responsibilities. The AIRS Certification Commission engaged in a consultative process with AIRS membership, certification holders, and national partners over the past year with the intent to develop new names for AIRS credentials. These changes are primarily intended to raise the status of the profession with stakeholders/funders; and to acknowledge the significant changes within the work performed within agencies engaged in helping individuals and families to find and secure the services needed to help them. The AIRS credential designed for aging and disability professionals, previously the Certified Information & Referral Specialist for Aging/Disabilities (CIRS-A/D), is now the Community Resource Specialist - Aging/Disabilities (CRS-A/D). All AIRS credentials now share the common stem of Community Resource Specialist. In addition to the CRS-A/D, Community Resource Specialist (CRS) is the new name for a Certified Information and Referral Specialist, and Community Resource Specialist - Database Curator (CRS-DC) is the new name for a Certified Resource Specialist. For more information on AIRS certification, visit https://www.airs.org/i4a/pages/index.cfm?pageID=3309. For further information on the CRS-A/D, see our fact sheet.
AIRS I&R Training and Education Conference Materials Available Online
The 40th Annual AIRS I&R Training and Education Conference was held June 3 to 6, 2018, in Dallas, Texas. The Symposium offered a pre-conference National I&R/A Summit for aging and disability professionals, a full complement of conference workshops, and an Aging and Disability Luncheon. Conference workshops featured national, state and local professionals from across the country discussing initiatives and innovations in aging and disability I&R/A programs. NASUAD has posted information about the pre-conference summit, the luncheon, and the aging and disability track workshops on its website.
Click here to view workshop descriptions and access materials including slide presentations and handouts.
Monthly Technical Assistance Webinars
Click here to view recent and upcoming I&R technical assistance webinars coordinated by the National I&R Support Center.